Welcome to Eastern View Outfitters "Success afield is our business." Eastern View Outfitters LLC is a Fully Licensed and Insured Outdoor Guide Service specializing in Guided Duck & Goose Hunts in NY, Spring Turkey Hunts, Guided Pheasant hunts, Fishing Charters, Bow-fishing Trips & ECO-Tours in NY & VT on Lake Champlain.
Here is a list of the services we offer at EVO–Please click on the labeled tabs above at the top of the page or the hyperlinks below to view more detailed information about each service
Offering both Fall & Spring hunts for snow geese in New York (October-April 15)
About Eastern View Outfitters LLC
Eastern View Outfitters LLC is a professional, year-round hunting & fishing guide service. EVO was established in 2009 and is a Full-time, 7 days a week Guide service, which is very important when searching for Guide services. EVO has become a brand in the Northeast you can trust to get the job done! The professional Guides are here to work hard for our guests and create a safe & successful experience. Please follow the Facebook and Instagram accounts to see results!
EVO's homebase is centered in Plattsburgh, NY adjacent to the world class Lake Champlain region fishery. We have access to some of the most productive farmland and water the Northeast has to offer. The Lake Champlain Valley is a rich and fertile landscape that provides habitat for large populations of waterfowl species, deer, wild turkeys and large gamefish! Lake Champlain is also rated as one of the best bass fisheries in the country by Touring Bass Pros! The lake is settled between the Green Mountains of Vermont and the Adirondack Mountains in New York. The region has a plethora of outdoors activities available and lots of fun Inn's and B&B's to explore making it a great place to vacation for all types of folks.
The business has grown to be one of the busiest and most diverse Outdoor Guide services in New York state! Owner, Bryce Collins still guides personally and he has hand picked some of area's top Guides to become part of a growing team. Guiding well is an extremely team oriented endeavor with lots of work behind the scenes. Captain Bryce and the EVO Guides have a wealth of experience hunting and fishing across much of the Northeastern portion of the United States. We work extremely hard for our guests and hold very high standards on our trips. We want our guests to be successful more than you can imagine. EVO has an amazing team who all have the same collective goals in mind… to provide the best possible outdoor experiences at a fair price.
About Captain Bryce Collins
Bryce is a New York State Guide and Licensed United States Coast Guard Captain. He is the Sole Proprietor of Eastern View Outfitters, and currently resides less than 15 miles from where he grew up. Bryce graduated Cum Laude from SUNY Plattsburgh with a B.S. degree in Environmental Science. After college he pursued a career in his field, taking a Government position utilizing GIS mapping as part of a Community Plans Team in western NY. After several years he chose to make a life change, giving up a career in his field and to follow his true passion…. The Outdoors!
Amongst his outdoor pursuits Bryce has traveled to and guided in numerous other states. In the spring of 2012, Bryce added a single season Grand Slam to his accolades. Traveling to Florida, Oklahoma, New Mexico and New York to harvest the four wild turkey subspecies, all in the same spring season. (Rio-Grande, Merriam's, Osceola, Eastern). He is currently working on his quest for the US Super Slam–Harvesting Wild Turkeys in all 49 states! A truly monumental task for anyone. Bryce has also volunteered a great deal of his time to the National Wild Turkey Federation, serving his local Lake Champlain Chapter and has donated numerous NWTF Youth Turkey Hunts. "I have chose to dedicate my life to sharing my passion, my knowledge and love of the outdoors with others…. What better way to carve out an existence in this world"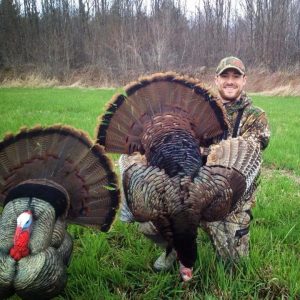 Our Gear
We pride ourselves on using field tested top of the line gear. Some of the brands you'll see on our Trips are: