Eastern View Outfitters LLC Preserve has thousands of acres of privately managed ground ranging from picked agricultural fields, secondary growth pasture lands, to rolling meadows and mixed hardwood forests. This allows us to give our upland hunters a variety of challenging terrain to hunt upland birds in. We are only offering fully Guided hunts for ringneck pheasants at this time. Ringneck pheasants are some of the most beautiful of all game birds, a rewarding bird to pursue! We will be tailoring the hunts to parties of 10 or less persons. This gives each person plenty of ample shot opportunities in the group and safe hunting conditions. All non-member hunts will have a licensed NYS Guide on hand and a Gundog provided if your party desires and doesn't have one of their own. The Gundogs will be provided for locating and retrieving the game birds your party harvests. We utilize both pointing dogs and flushing dogs depending on the cover we will be hunting. We also offer a Preserve Membership so please take a look at this value package. All memberships are the only self guided packages we offer. We only offer a limited number of Preserve memberships annually so plan ahead. Both Member and non-member hunts are certainly welcome to bring their own dogs on the hunt. Whether you own seasoned gun dogs or are introducing that young pup to the art of game bird hunting, we encourage you to come hunt our preserve. If your party has their own Gundog–the Guide will gladly sideline his dog/s to allow your dog/s exclusive hunting privileges. All bird cleaning is included in the non-member hunt price and the member hunts if they are fully guided. Gratuity is not included in the price on the fully guided hunts and is greatly appreciated by the Guide.
We are a Class A preserve and No hunting license or special permits are required to hunt Ringneck Pheasants at our preserve.
We only allow non-lead ammunition such as steel shot, tungsten or bismuth while hunting on the Preserve. This is an ECO-Friendly Preserve and there is no exceptions. We will have 12 gauge Rio Blue-steel shotshell ammunition available or you can plan ahead and bring your own favorite cartridge.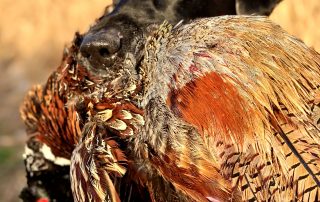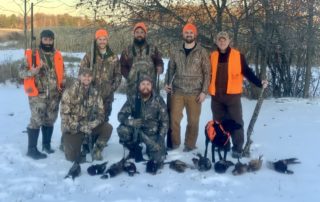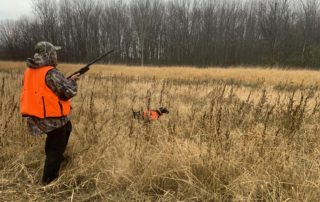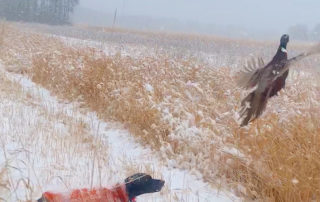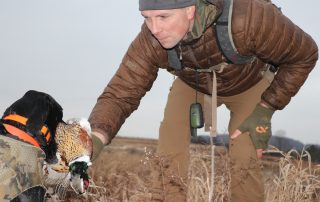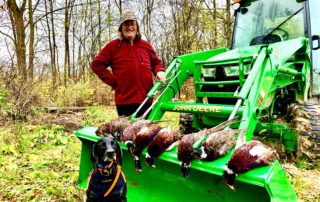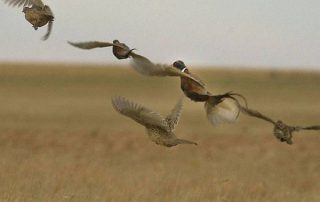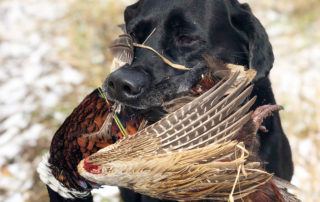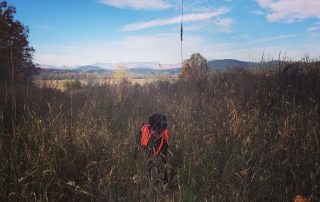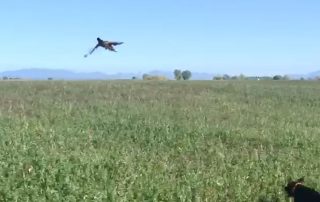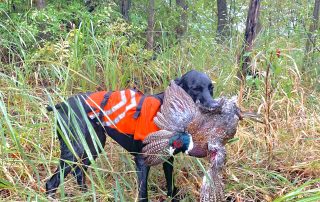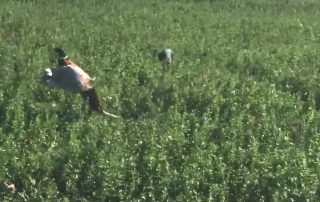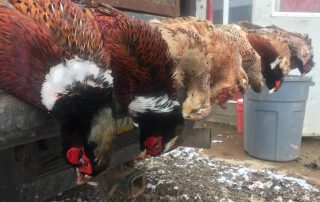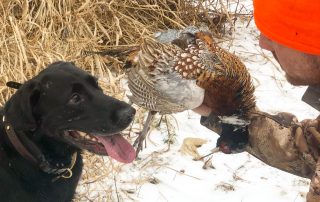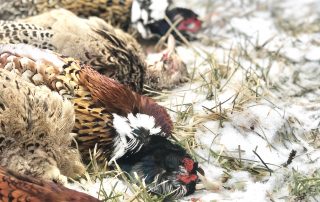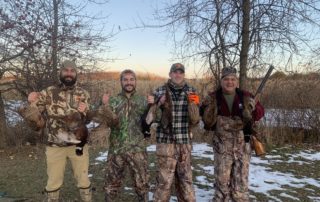 Ringneck Pheasant Hunt packages in NY (September 1st -April 15)
All non-member & member Pheasant hunts are offered either in the Morning or in the Afternoon. Morning hunts are scheduled from 9am-12noon and Afternoon hunts are scheduled from 1pm-4pm. All Preserve Membership holder hunts will be self guided unless you added the Fully Guided hunt. The Guide will will show you the hunt area where your party of up to 4 persons will hunt. Each non-member hunt will be accompanied by a Guide/s and a Gundog/s. Your Guide/s will go over basic safety rules and hunting strategy for the hunt. Your party will then follow your Guide and Gundog into prime Pheasant habitat and the hunt ensues! Watch the dog flawlessly work over the cover and habitat in search of the fast flying Ringneck Pheasants. Your Guide will know when the dog is on point or "birdy" and will instruct the group to pay special attention. The bird will flush and your group will take aim and harvest your game birds. If your party has their own hunting dogs the Guide will not hunt his dog/s and be there to help direct you to the areas you should work the cover over thoroughly. We do not shoot birds on the ground and all guests will abide by the "Horizon Rule" or the hunt will be terminated. This means if you can't see blue sky below the bird please don't shoot. Our hunting dogs are like our children. Hunts will have both hens and rooster pheasants and both may be harvested during the hunt. Both before and after the hunt member & nonmembers are required to check in and check out. After the hunt your Guide will take pictures and clean all your birds. You can add more birds or a Fully guided hunt with our dogs to the hunt if desired and scheduled 24 hours prior to the hunt. All Pheasant hunts can be combined with Fishing charter and Waterfowl hunting packages. When you schedule as combo trips you save your group money instead of booking separately.
After the Hunt
Birds will be processed back at the trucks by your Guide on all fully guided hunts. Guides will dress birds out and place into ziplock bags for your convenience. All carcasses will be taken by the guide to ensure they are disposed of properly.
Many people choose to relax and rest up for the following days adventure by seeing some of the areas scenic destinations like Ausable Chasm. If you enjoy tasting local Craft Beers and Wines. Check out Ausable Brewing Co, Valcour Brewing Company, The Oval Brewery and Plattsburgh Brewing Co located right in the same building as the Comfort Inn lodging. If Wine and Ciders are your thing– definitely check out Elf's Farm Winery & Ciderhouse and Vesco Ridge Vineyards for a great Tasting experience. Recommended formal dining options are Anthony's Restaurant & Bistro, Latitude 44 Bistro and for more casual Dining check out Mickey's Restaurant and Our House Bistro. For those diehards who want to squeeze every bit of action they can into the day! Guests can take full advantage of our Blast and cast Package, the Waterfowl and Deer hunt Package and our Fishing and Bowfishing Combo Packages! While you relax and enjoy everything the Lake Champlain Region has to offer. Our guides will be out in the afternoons until dusk scouting birds for the following days hunt. If you decide to preserve your Trophy–we have an exceptional Taxidermist who we can put you in touch with if you plan to have the work done locally.
If you're extending your vacation, don't miss out on the rest of the Adirondacks and Northern New York!
Lodging
Comfort Inn & Suites–Plattsburgh, NY
Our guests can take advantage of our Eastern View Outfitters reduced rates of $90/Night and stay at the Comfort Inn & Suites located at 411 Route 3 Plattsburgh, NY 12901. Comfort Inn & Suites rooms are equipped with 2 Queen size beds, high speed WIFI, Microwave and Fridge. Other amenities include an indoor swimming pool, fitness center , restaurant/bar, and free parking. It is also in close proximity to most of the shopping and dinning options in the area. Just call the Comfort Inn & Suites at 518-562-2730 and mention Eastern View Outfitters & Bryce Collins to make reservations at the Corporate Rates of $90/Night.
Other Lodging Options
We have a few options from homes and cabins for rent starting at about $200/night to local Inn's and Bed & Breakfast's that we can provide you the contact information upon request based on your needs. Some of these options can handle larger groups of up to 10 persons. Call Captain Bryce for more information.
Our Pledge
We will do everything we can to make our guests successful, happy, and safe!
Structured and controlled hunting in a "Fair Chase" setting
We only use Top of the line gear!
ECO-Friendly hunting with steel or non-lead shot
Hard Flying Trophy class game birds
Our Guides will have you on the birds!
All Pheasant hunts are a 100% Guranteed shooting hunt
Professionally Licensed NYS Guides and Experienced Gundogs
Do the research… check references, compare photo galleries, look at our Eastern View Outfitters Facebook page for the most current activity and complete photo gallery. We are certain you will be extremely satisfied with our services–Call well in advance for reservations.
Pheasant Hunting Packages in NY
Hunts from September through mid April
1-4 Hunters $500/10 Bird package (50/50 hens & rooster)
5-8 Hunters $1000/20 Bird package (50/50 hens & rooster)
All hunts include a NYS Licensed Guide and Gundog, bird cleaning and carcass disposal
All hunting packages can have birds added on to the hunt if scheduled prior to the hunt see the Add-On package tab
Parties of more than 4 hunters will be split into 2 groups of no more than 4 hunters per group–Each group with a Guide
1-10 Hunters $2200 –50 Bird package (50/50 hens & rooster)
All hunts include a NYS Licensed Guide and Gundog, bird cleaning and carcass disposal
All hunting packages can have birds added on to the hunt if scheduled prior to the hunt see the Add-On package tab
All parties with more than 5 persons will be split into 2 groups of no more than 5 hunters per group–Each group has a Guide
Complimentary alcoholic beverages are served after the hunt and non-alcoholic beverages are available during the hunt
$1195 Annual Memberships valid September 1 – April 15
Exclusive access hunts for your party of up to 4 hunters
40 birds Guaranteed throughout the season in 10 bird increments (4 hunts)
24 hours notice needed to hunt
All member hunts are self guided and for an additional $150 charge per hunt can be Fully Guided with our gun dogs with bird cleaning included
Birds and bird cleaning are the responsibility of the hunters
$350 to add on 10 birds to the hunt
$175 to add on 5 birds to the hunt
All add on packages have to be scheduled prior to the hunt with 24 hours advance notice
$775 Fishing and Pheasant hunt Package includes
4 hour Fishing Charter on Lake Champlain
10 Bird package (50/50 hens & rooster)
You save $$$ Booking as the Combination trip
This package price is for 1-4 persons
Pheasant Hunt includes
All hunts include a NYS Licensed Guide and Gundog, bird cleaning, non-alcoholic beverages, and carcass disposal
All hunting packages can have birds added on to the hunt if scheduled prior to the hunt see the Add-On package tab
You do not need a NY or any special licenses or permits to hunt on our Preserve
Fishing Charters on Lake Champlain include:
Fully Guided fishing trip on Lake Champlain with a Licensed & Insured USCG Captain
All rods, reels, and tackle are provided. All gear is top of the line! No junk.
Bottled water & Powerades are on board and complimentary for all guests
We offer Charters from April through November for a variety of species– Call for the best times to fish for each
Warm water Charters target Largemouth Bass, Smallmouth Bass, Northern Pike, Chain Pickerel & Hybrid Pike/Pickerel
Coldwater Charters target Atlantic Landlocked Salmon, Lake Trout, Brown Trout & Steelhead
Does not include New York or Vermont fishing license fees–If you are not a resident of NY or VT we recommend you ask which license is best for your trip. We have a reciprocal licensing program but some of the water a Vermont License is needed to fish there. You need a Fishing license to fish aboard our vessels. See NYSDEC or VTFish&Game websites for purchasing your short term fishing licenses for each person in your party.
Combo Duck/Goose & pheasant hunt prices
September-January
4 Hunters $1450/day
5 Hunters $1600/day
Morning Waterfowl hunt for wild "fair chase" Ducks and Geese
Afternoon 10 bird package pheasant hunt (50/50 hens & rooster)
6-8 Hunters $2400/day

Incredible deal!!

(Only October-January)
Morning Waterfowl hunt for wild "fair chase" Ducks and Geese
Afternoon 20 bird package pheasant hunt (50/50 hens & rooster)
You save $$$$ by booking as a combination trip
All Fall Waterfowl hunts from September through January can be combined with afternoon pheasant hunt packages.
See September pricing for Early Season Canada goose hunt & Pheasant hunt combo Packages under September goose hunting tab
Trip Includes
Waterfowl Hunt
Includes Fully Guided "fair chase" Duck & Goose Hunt
Tips and techniques from our Guides on hunting strategy, and game processing
All decoys, blinds and necessary gear is provided
We highly recommend booking 2 day hunts to ensure you have the best possible chances on a huge shoot
Pheasant Hunt
All Preserve pheasant hunts include a NYS Licensed Guide, Gundog if desired, bird cleaning and carcass disposal
All hunting pheasant hunting packages can have birds added on to the hunt if scheduled prior to the hunt see the Add-On package tab
Parties of more than 5 hunters will be split into 2 groups of no more than 5 hunters per group–Each group with a Guide