Eastern View Outfitters provides Greater Spring Snow Goose Hunts in New York and Pennsylvania. Our hunts are conducted in Traditional Staging Habitat and Resting areas within the Atlantic Flyway. These areas are the traditional regions used by migrating Snow Geese year after year. We hunt Snow Goose on thousands of acres of private farmland in Upstate New York and Pennsylvania. Our Atlantic Flyway, Greater Snow Goose hunts are strictly fair-chase, no feeders, or farm raised birds…
There is nothing more magical than watching a flock of thousands of migrating Greater Snow Geese circle down into the decoys. This is a spring spectacle which is unrivaled! Our Guides and Experienced Retrievers will be sure to make sure you have an enjoyable stress-free Greater Snow Goose hunt! Our knowledgeable guides will be happy to answer questions and put your group in the best possible position to be successful. Snow geese are the most wary and difficult bird in North America to decoy consistently. Decoy spreads numbering in the thousands are the common place to entice and lure huge migrating flocks within shotgun range. A lot of snow goose success has to do with the weather–unfortunately this is one factor we can't control. But we will do everything in our power to make sure you are on birds during your trip with Eastern View Outfitters.
Went on my first snow goose hunt and it was a memorable one. Bryce Collins of Eastern View Outfitters was OUSTANDING. He ran his guide service the right way. Safety was his number one priority of his guests in the blind. The property was right off Lake Champlain and waterfowl were EVERYWHERE!!! We saw thousands of ducks, Canadas, and Snows during our two day hunt. Hudson, Bryce's Black Lab was exceptional, ranging out over 250 yards on two blind retrieves each day.
Blinds were very comfortable and Bryce made sure you were taken care of. A big thank you to Bryce, Hudson, and all the other guys we hunted with this weekend. We will be back next year!
Captain Bryce and his partner served as excellent guides for our father-son Thanksgiving weekend snow goose hunt. He was on time, professional and courteous. The decoy rig was large and of high quality. Bryce calls very well and knows when to call/flag and when to sit still. He has leased many productive acres and takes time to scout. We had very good shooting in a safe environment.

Charlie

New York, NY
Guided Snow Goose Hunt
Whether we are hunting in New York or Pennsylvania, our guests can expect the hunt preparation to start in the pre-dawn hours; where they will meet their guide, sign waivers, settle up balances and go over what they can expect for the day. Our guides will then accompany you in the field before first light and help you lure these wary Greater Snow Geese into shotgun range using a top of the line Electronic Calling system. We have hidden speakers in and amongst the decoys throughout to broadcast sounds like thousands of hungry, feeding snow geese. When the geese come into range our guides will call the shot, instructing all the hunters to take aim and harvest birds! Some days hunters that are physically able will be asked to help adjust or straighten up the decoy spread and brush a dusting of snow off from the decoys. This is a team effort and all part of the hunt.
No other time of the year is quite like the action that can be seen on a Spring Snow Goose Hunt! It is a migration based hunt and we will often have thousands of birds migrating through the area each day of the snow goose hunt. Hunts are conducted out of either white suits and custom blinds built for comfort on the coldest of days. If the weather's a little warmer we will use white suits (provided) to hide among the thousands of decoys we set up to lure the snow geese into range. We will break for lunch, if you're on one of our New York Snow Goose hunts we can have a hot meal delivered for $10/ meal from the Homestead Restaurant in Plattsburgh, NY (meals provided only on NY Hunts). After the hunt we will clean birds at the trucks and the Guide will take all carcasses to dispose of properly.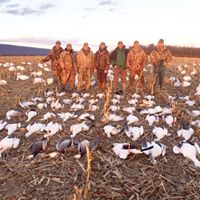 After the Hunt
Birds are the responsibility of the hunting party. Birds will be processed back at the trucks by guests or your Guide who will process for a fee of $2/bird if you prefer. Guides will breast birds out and leave a wing attached for traveling back across state lines. All carcasses will be taken by the guide to ensure they are disposed of properly. Additionally, most of you will be most likely staying at the Comfort Inn and we do not want any bird cleaning bird cleaning done there.
Many people choose to relax and rest up for the following days adventure by seeing some of the areas scenic destinations like Ausable Chasm. If you enjoy tasting local Craft Beers and Wines. Check out Ausable Brewing Co, Valcour Brewing Company, The Oval Brewery and Plattsburgh Brewing Co located right in the same building as the Comfort Inn lodging. If Wine and Ciders are your thing– definitely check out Elf's Farm Winery & Ciderhouse and Vesco Ridge Vineyards for a great Tasting experience. Recommended formal dining options are Anthony's Restaurant & Bistro, Latitude 44 Bistro and for more casual Dining check out Mickey's Restaurant and Our House Bistro. For those diehards who want to squeeze every bit of action they can into the day! Guests can take full advantage of our Blast and cast Package, the Waterfowl and Deer hunt Package and our Fishing and Bowfishing Combo Packages! While you relax and enjoy everything the Lake Champlain Region has to offer. Our guides will be out in the afternoons until dusk scouting birds for the following days hunt. If you decide to preserve your Trophy–we have an exceptional Taxidermist who we can put you in touch with if you plan to have the work done locally.
If you're extending your vacation, don't miss out on the rest of the Adirondacks and Northern New York!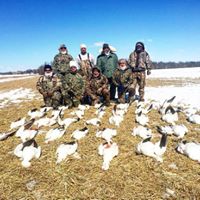 Lodging
Plattsburgh, NY
Our guests can take advantage of our Eastern View Outfitters reduced rates of $90/Night and stay at the Comfort Inn & Suites located at 411 Route 3 Plattsburgh, NY 12901. Comfort Inn & Suites rooms are equipped with 2 Queen size beds, high speed WIFI, Microwave and Fridge. (Click links to view room & other amenities) Other amenities include an indoor swimming pool, fitness center , restaurant/bar, and free parking. It is also in close proximity to most of the shopping and dinning options in the area. Just call the Comfort Inn & Suites at 518-562-2730 and mention Eastern View Outfitters & Bryce Collins to make reservations at the Corporate Rates of $90/Night. We also have a couple contacts with homes for rent that sleep from 4-6 people starting at $200/night and we can provide their contact info upon requests. One of which is a beautiful cabin on a private lake very close to Plattsburgh, NY and the surrounding areas.
Middle Creek, Pa
When our guests are hunting with us in Pennsylvania they can be sure to find a comfortable room at the Comfort Inn in Denver, Pa. The Hotel is located at 1 Denver Rd. in Denver, Pa. Amenities include free WIFI, kitchen in all rooms, Air conditioned, Pool, Gym and pets are allowed. To reserve a room call 717-336-7541.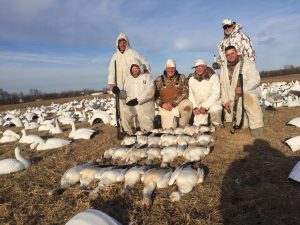 Our Pledge
We will do everything we can to make our guests successful, happy, and safe!
No farm raised birds! 100% Fair chase! This is the "real deal"
We will not hunt over junk… We only use Top of the line gear!
Our hunts are conducted over HUGE decoy spreads numbering from 2000-4000 decoys depending on the field we are hunting
Professionally Licensed NYS Guides and Experienced Retrievers
Do the research…check references, compare photo galleries, look at our Eastern View Outfitters Facebook page for the most current activity and complete photo gallery.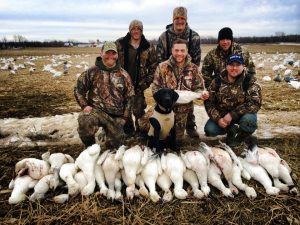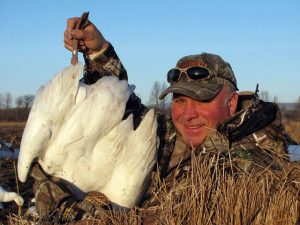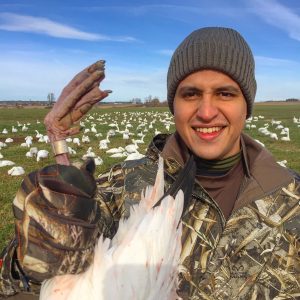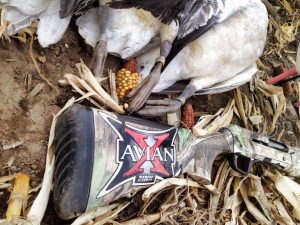 Spring Snow Goose Hunt Package Rates
$250 per hunter/day for Groups of 5 or less
Snow Goose Hunts in NY or PA
Includes Fully Guided Hunt on Private Land
Massive Decoy Spreads & Electronic Callers
Tips and techniques from our Guides on hunting strategy, and game processing
All decoys, blinds and necessary gear is provided and set up for you before the hunt
$1500 for Groups of 6-8 hunters/Day
Snow Goose Hunts in NY or PA
Includes Fully Guided Hunt on Private Land
Massive Decoy Spreads & Electronic Callers
Tips and techniques from our Guides on hunting strategy, and game processing
All decoys, blinds and necessary gear is provided and set up for you before the hunt
All Snow Goose hunts can accommodate up to 8 Hunters per field
You must have 6 Hunters in your Party to have an Exclusive hunt for which you will not have to pay for the two remaining blinds
If you have less than 6 in your Party other Hunters will be added to fill the remaining spots
Well mannered dogs will be permitted upon request if you have 6 Hunters