EVO LLC is the Longest standing Bowfishing Charter on Lake Champlain
We are the Original Bowfishing Charter service on Lake Champlain
Sticking em" since 2009!
Eastern View Outfitters is located in Plattsburgh, New York, along the shores of the Northeastern portion of Lake Champlain.
Eastern View Outfitters is #1 in Bowfishing on the big water of Lake Champlain! We were doing it before it was cool!! We are an official United States Coast Guard Licensed and Insured Lake Champlain Bowfishing Charter. We are the FIRST Bowfishing Charter on the lake to offer these services and have been professionally Guiding Bowfishing Charters on Lake Champlain longer than anyone else. Often imitated but never duplicated as they say! With over 40 years combined experience Bowfishing our home water, rest assured we will provide you and your group with a safe and successful outing!
Lake Champlain is home to the arguably the absolute best Bowfishing experience in New York State & Vermont! Lake Champlain is an exceptionally diverse lake, rich with opportunities to Bowfish a plethora of species. No other body of water located in New York State allows you to shoot 11 species of fish!!
Species targeted by means of shooting are Northern Pike during a special season from (March 25-May 25) Then we will target Common Carp, Longnose Gar, Burbot, Mullet, Suckers, Shad, Tench and Bullhead by means of Bowfishing on Lake Champlain from (May 25-October 1) Bowfishing on Lake Champlain is second to none! More species, means targets and more shooting and of course that equals more fun for your group! Lake Champlain also holds the current New York State record Longnose Gar and Bowfin & the Vermont state record Common Carp–so it is very possible to shoot a state record fish on Lake Champlain and we have been close a couple times! We will pickup guests on both the Vermont and the New York side of the Lake which can be arranged when reserving your trip.
The vessel we are running is a 21 foot "Top of the Line" Tracker Grizzly sportsman edition set up and sold at Bass Pro Shops specifically designed to Bowfish on. It has all the bells and whistles and can comfortably accommodate 4 shooters. Lake Champlain is a huge lake prone to big wind, large wave heights, and various hazards. Navigating these waters at night can be a daunting task so choosing a Captain with the experience and a safe sea worthy vessel made for this job is vital to the quality and safety of your outdoor experience.
We have built a brand that both hardcore outdoors people and beginners trust! Do your research and ask how long have you had a Captain's License? Are you insured? How long have you been guiding Bowfishing professionally? All great questions when trusting your life on Lake Champlain with someone. Scroll through photo galleries and social media accounts to compare us to others. We will make sure you are safe and successful while on board our vessels. We have over 10 years worth of professionally guided client references available at EVO just ask and we will gladly supply them.
The sport of Bowfishing is very beginner friendly for men, women and children, of all ages! If you have never shot a bow… No worries, anyone can Bowfish! The Captain will have you shooting fish in no time! We will give you proper instruction and be there to help guide you to success! You do not even have to touch the fish that you shoot if you do not want to! The Captain will take care of that plus disposing of the fish after your trip!
We supply everything needed for the trip. You just show up with proper clothing attire and have fun! With over 30 years combined Experience Bowfishing in New York & Vermont on Lake Champlain, United States Coast Guard Captains Bryce Collins and Matthew Houser, "Welcome you Aboard!" Come try the most exciting thing you can do with a bow in your hand! Come experience what Bowfishing Fever on Lake Champlain is all about!! Shown at the bottom is a 44.2 lb Common Carp just a few ounces short of the Lake Champlain lake record.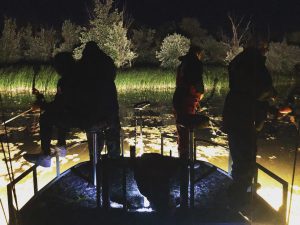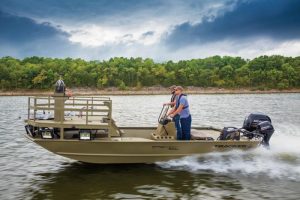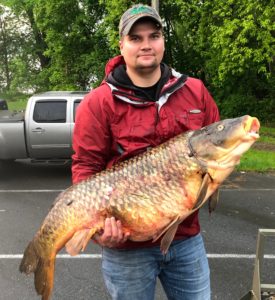 Bowfishing in New York & Vermont on Lake Champlain
Welcome Aboard! Our guests can expect to Bowfish on Lake Champlain in Upstate New York from a custom 21 foot vessel–The 2016 Tracker Sportsman is specifically designed for the sport of Bowfishing! It is big, spacious & fully equipped with a shooting deck, lights and a generator to see those big fish that come out to play at night! Guests will meet the charter Captain at the boat at 8pm at a designated boat launch best for the trip. All trips utilize a boat launch on Lake Champlain no more than 30 minute drive from Plattsburgh, New York. We will pickup on the Vermont side of the lake in certain areas upon your request and approval from the Captain. Once at the launch guests will meet the Captain and go over Bowfishing tips, techniques and strategy for the night. The Captain will gladly answer questions and provide assistance and instruction on shooting at fish, arrow removal from the fish and even holding fish for pictures if needed. You do not have to touch fish if you don't want to!! We offer a full line of quality PSE & AMS Bowfishing gear and tackle needed to be successful on your trip for men, women and kids! We supply bows, arrows and all the equipment needed for the trip. We only offer 4 and 6 hour Bowfishing Charters on Lake Champlain to accommodate a variety of needs. All trips are limited to no more than 4 people per vessel for two reasons. Reason one– Safety, which has always been our #1 priority, with fun is a close second! The second reason, is to provide proper instructor to student ratios–creating better shot opportunities and success for each individual on board. We can certainly accommodate bigger groups of up to 8 persons so just ask upon making your reservations. Bowfishing is fun for all ages and experience levels! Please don't be intimidated and come enjoy something the whole family can do together!
We GUARANTEE you will shoot at fish, or the next trip is on us!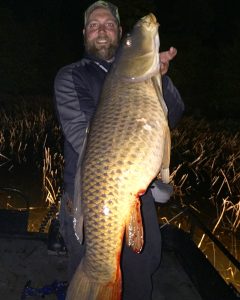 After the Trip
You will no doubt be ready for some sleep but when you get up the following day do not hesitate to check out some of our recommended local hot spots. Ausable Chasm is quite a hydrologic spectacle–With a huge plunging waterfall, this is great spot for a photo opportunities and selfies from the Route 9 Bridge–They also offer scenic raft rides and an Adventure course through the canyon made by the Chasm. If you enjoy tasting local Craft Beers and Wines. Check out Ausable Brewing Co, Valcour Brewing Company, The Oval Brewery and Plattsburgh Brewing Co located right in the same building as the Comfort Inn lodging. If Wine and Ciders are your thing– definitely check out Elf's Farm Winery & Ciderhouse and Vesco Ridge Vineyards for a great Tasting experience. Recommended formal dining options are Anthony's Restaurant & Bistro, Latitude 44 Bistro and for more casual Dining check out Mickey's Restaurant and Our House Bistro. For those diehards who want to squeeze every bit of action they can into the day! Guests can take full advantage of our Blast and cast Package, the Waterfowl and Deer hunt Package and our Fishing and Bowfishing Combo Packages! While you relax and enjoy everything the Lake Champlain Region has to offer. Our guides will be out in the afternoons until dusk scouting birds for the following days hunt. If you decide to preserve your Trophy–we have an exceptional Taxidermist who we can put you in touch with if you plan to have the work done locally.
If you're extending your vacation, don't miss out on the rest of the Adirondacks and Northern New York!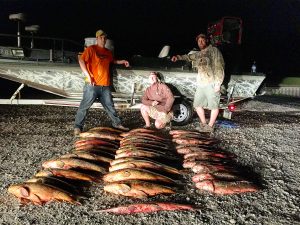 Lodging
Comfort Inn & Suites–Plattsburgh, NY
Our guests can take advantage of our Eastern View Outfitters reduced rates of $90/Night and stay at the Comfort Inn & Suites located at 411 Route 3 Plattsburgh, NY 12901. Comfort Inn & Suites rooms are equipped with 2 Queen size beds, high speed WIFI, Microwave and Fridge. Other amenities include an indoor swimming pool, fitness center , restaurant/bar, and free parking. It is also in close proximity to most of the shopping and dinning options in the area. Just call the Comfort Inn & Suites at 518-562-2730 and mention Eastern View Outfitters & Bryce Collins to make reservations at the Corporate Rates of $90/Night.
Marine Village Cottages–Plattsburgh, NY
Beautiful Rustic cottages and lodging options directly on 16 acres of Lakefront paradise. Each cabin is equipped with 3 separate bedrooms and cook top stoves as well as utensils. Outdoor fire pit and picnic tables and a great service staff in the office make this a great place to stay while fishing with us!! Call Marine Village cottages directly by email or by phone at info@mvcottages.com or 518-563-5698 and mention Capt Bryce Collins sent ya! The address is 82 Dickson Point Rd Plattsburgh, NY 12901. Their website is www.marinevillagecottages.com
Other Lodging Options
We have a few options from homes and cabins for rent starting at about $160-ish/night to local Inn's and Bed & Breakfast's that we can provide you the contact information upon request based on your needs. Some of these options can handle larger groups of up to 10 persons. Call Captain Bryce at 518-569-5770 for more information.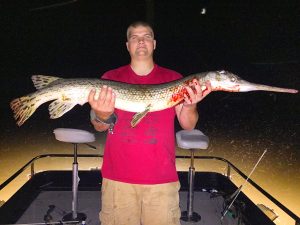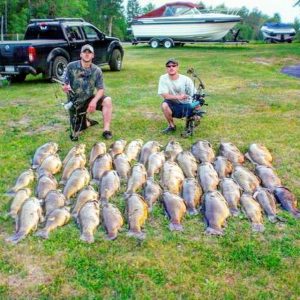 Our Pledge
We will do everything we can to make our guests successful, happy, and safe!
We have a "Shoot at Fish Guarantee"
Our Captain's and Guides are the best in the Business!
Our business is based on return clients!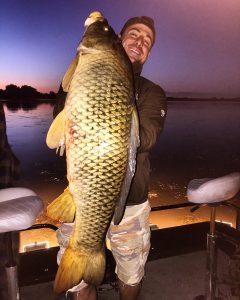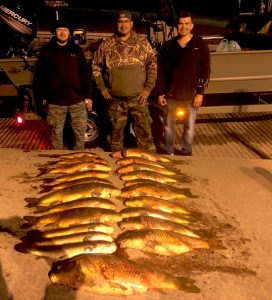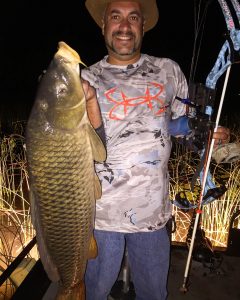 Lake Champlain Bowfishing Rates
$ 500 for 4 hours (up to 4 persons)
$ 620 for 6 hours (up to 4 persons)
Charters offered from April through October 1
Call for Prime time dates on the target species that you are after!
We pickup on the NY & VT side of the lake–Discuss when reserving your trip
Bowfishing Charter on Lake Champlain includes:
Prices are for the Fully Guided Bowfishing trip for up to 4 Guests. For example the 4 hour charter is $125 per person with 4 people. The price does not change if you have 1-4 persons in your group.
All Bows, arrows and tackle are provided—Just show up and shoot! (No archery experience needed)
Custom 21 foot Tracker Sportsman Boat Equipped with a Shooting Platform, Lights and a Generator let you to see those Monster fish that come out at night!
Charter Price Does not include Vermont fishing license fees. ($22/person)
All persons looking to shoot multiple species must have a Vermont fishing license on board.
Although not mandatory we highly recommend purchasing the short term Vermont fishing license for everyone on board. This gives your group access to an exclusive part of Lake Champlain that is only Bowfished with a VT license
If you do not possess a VT fishing license we are only allowed to shoot common carp
Bowfishing–Shoot at Fish Guarantee is only offered on trips with clients holding VT fishing licenses
$875 for a 4 hour Fishing Charter & 4 hour Bowfishing Charter on Lake Champlain (Price is for Up to 4 persons)
You save $50 by booking as a combination trip!
Charters offered from April through October
We pickup on the NY & VT side of the lake–Discuss when reserving your trip
Call for Prime time dates on the target species you are after
Combo Fishing & Bowfishing Charter Trip on Lake Champlain includes:
Fully Guided 4 hour Fishing charter for up to 4 Guests either in the Morning or the Afternoon
Fully Guided 4 hour Bowfishing trip for up to 4 Guests starting at 8 PM concluding at 12 AM
Prices are for the Fully Guided Bowfishing trip & the Fishing Charter for up to 4 Guests. The price does not change if you have 1-4 persons in your group.
All Rods, Tackle, Bows, Arrows and gear are provided—Just show up and shoot!
21 foot Tracker equipped with Custom Shooting Platform, Lights and a Generator let you to see those Monster fish that come out at night!
Charter Price Does not include Vermont fishing license fees.
All persons looking to shoot multiple species must have a Vermont fishing license on board. ($22/person)
Although not mandatory we highly recommend purchasing the short term Vermont fishing license for everyone on board regardless of the species you are after. This gives your group access to an exclusive part of Lake Champlain that is only Bowfished with a VT license.
Your Fishing Charters can target a variety of species–Largemouth Bass, Smallmouth Bass, Northern Pike, Pickerel, Lake Trout & Atlantic Salmon
Bowfishing–Shoot at Fish Guarantee is only offered on trips with clients holding VT fishing licenses