Eastern View Outfitters is located in Plattsburgh, New York, situated in the Champlain Valley, along Lake Champlain. We offer unmatched Spring Turkey hunts in New York, Vermont, New Hampshire, Massachusetts & Maine from May 1 through early June. Hunts are conducted on thousands of acres of private farmland. The hunting grounds in NY are hugely agricultural with mixed forested areas between agricultural zones. The areas hunted in Vermont, New Hampshire, Massachusetts and Maine are largely forested tracts with smaller pastures, meadows and agriculture creating a mosaic of Eastern Wild Turkey habitat. These diverse habitats, plenty of land access and thorough scouting ensure our guests the best possible chances at getting their trophy bird! We are strictly fair-chase, no feeders, or farm raised birds… We offer the most exciting and action packed Spring Turkey hunting in New York & Vermont–with un-matched success rates! No other Guide Service in New York or Vermont Kills more Turkeys than we do!
Our business is built on return clients and we hold our repeat clientele for good reason. Our clients come as guests and leave as friends. We have maintained from the beginning a "hard work pays off'" mentality. We scout year round and scout daily during the season, making sure our guests are on birds each day of the hunt! And it shows!! We have nearly a 100% opportunity rate on all Turkey hunts and only take a high percentage of Mature Trophy Longbeards each year, leaving plenty of younger birds for the following Spring. We do not over book our season/properties and only offer a limited number of hunts each season. This population management and business strategy ensures our guests plenty of birds from the first day to the last day of the season! Scroll through our Facebook page…. We harvest birds from the first day to the last day of the season!! Statistically, our best scoring birds usually come middle to late in the season… Food for thought! So don't worry about when your hunt is scheduled early or late in the season…. It does not matter, I promise! Come prepared, ready to hunt and realize we have the ground and the experience to be just as successful the entire Spring season. A true testament of any outfitter, their ground, their Guides and their work ethic!
Our guides are Licensed & Experienced professionals and they are glad to answer questions and provide informative details about calling and setup strategy to help you hone you skill set. We only use the best Guides in the Northeast–Masters of their craft! Some are decorated competition Turkey callers and others are seasoned & professional Turkey Killers! As I have heard someone say before "I only run with killers!" This pretty much sums it up! We have become the go-to Outfitter in the Northeast for many seasoned Turkey nuts like myself chasing the US Superslam. With a huge reference list and a great knowledge of what it takes to be successful I promise you will get the best possible chances while hunting with us. Booking multiple states to hunt in with us has become a common occurrence with many of our guests.
Reserve you hunts well in advance. We only book a limited amount of hunts each season to ensure our guests have a quality experience! No matter if you are here for opening day or the last day of the season, rest assured you will have birds to hunt! We book up almost a year in advance and have very limited availability due to repeat customers so call soon to reserve your hunt! We hope you do your research and then we are certain you will choose EVO for your next Guided Spring Turkey hunting experience! Check out a quick clip from a hunt with PA Wildlife Biologist Chris Miller, knocking off his 35th state in NY on his quest for the US Superslam featured below on our Youtube channel. Then check out the second clip, a hunt filmed by Tyler Breen in late May which ended in a double–Harvesting both gobblers in the same hunt! Make sure to click on the little asterisk symbol to watch both clips in HD!! Select the icon in the lower right corner of the video after starting it to play and then highlight the highest resolution, enjoy! "No Guide service in NY has higher Success rates on Spring Turkeys–You can take that to the bank!" Sincerely, Capt Bryce Collins
Guided Turkey Hunting in New York, Vermont, New Hampshire, Massachusetts & Maine
2019 Eastern View Outfitters LLC Season Harvest– 73 birds in 31 days!! #1 in the Northeast
Your hunt starts months before any of our Guests for the season have arrived Capt Bryce and the Guides are scouting and patterning birds on our hunting grounds. Hundreds of hours have been spent and thousands of miles in the trucks have been traveled to ensure one thing–Our Guest's Success! Upon arrival our guests can expect Capt Bryce Collins to contact you and touch base the evening before each day to discuss transportation during the hunt and the location most convenient to meet the NYS licensed Hunting Guide. The hunt preparation will start in the pre-dawn hours… where you will meet your guide for the 3 day hunt. We will sign liability waivers, releasing EVO LLC and all landowners from liabilty. We will settle balances on the first morning of the hunt and go over your strategy for the day. Our guides will accompany and lead you in the field before first light taking you to a pre-scouted area where a bird was roosted and located the evening before. Guides then will aid you by showing you where to sit, calling in the Wild Turkeys and coaching you with in whispering distance to the harvest of your Trophy bird! Hunts are always 1 on 1 or 2 on 1 ratio of hunter/s to Guide. We do not permit hunters to hunt on their own. All hunts are fully guided by a Licensed NYS Guide. Our Guides are the some of the best in the Northeast–Masters of the craft! We highly encourage US Superslam guys to call us and call early! Captain Bryce has plenty of hardcore US Superslam references of hunters from the past years to provide upon requests. No doubt if you are in pursuit of the coveted US Superslam you are well connected and have already asked around… You are looking at this website for a reason. You're in the right place my friends. We are typically booking a year in advance. Rest assured you will get the opportunities that you're paying for!
We will hunt on prime agricultural land as well as mixed hardwood forests teaming with wild turkeys. Our fully guided Spring turkey hunts conclude each day at noon or after you have filled your tags. We only offer fully Guided Turkey hunts–No Semi-Guided packages are offered. We do not mix parties so either you will hunt one-on-one with your Guide or with the hunting partner you brought with you and your Guide. This ensures a safe, and well managed hunt. After the hunt we will field dress your bird/s and provide you with tips and instruction on processing your game on your own if you want or we will do everything for you if you decide. Guides will field dress your harvest into skinless quarters (two breasts & two leg quarters) which is included in the hunting package price. If you prefer to have it dressed skin on and whole like a store bought Turkey this is an extra charge that can be arranged for an additional fee of $50. Your meat in either case will then be vacuum sealed and frozen for your departure as well for no extra charge! Each day is action packed and it is not uncommon to hunt multiple areas and setups each morning. We are serious about our Turkey hunting and we expect our guests to come ready to hunt–so come rested each morning and prepared for the weather conditions! This means having your Gun patterned. You will have the whole afternoon to relax while the Guides are scouting, locating and roosting birds to hunt for the following morning. Many people ask if they can roost birds with the guides and we understand it is part of the hunt… but we have a system and do not allow guests to roost birds with us. This is the Guide's time to stay in their groove, relax a little, call each other and converse, while getting some time away from the Guests. No offense but it is a long season and a lot of work. So as a Guest, get your rest and fuel your body for the following day so that you are at your best. Capt Bryce or your Guide will contact you after scouting each evening of the hunt to once again go over transportation details, where to meet and arrange your pickup from the lodging for the following morning. All hunters will ride with the Guide they are hunting with. This serves two purposes, one it is best for the environment from a carbon footprint standpoint and second, it prevents Guests from getting stuck on an access road etc. Over the years we have seen it all, and this is the way we operate. It also takes some of the stress off from the guests, so that you can sit back enjoy your hunt much more. We truly work for our Guests harder than anyone and value our nearly 100% return Clientele list! Captain Bryce and Guides are some of the most intense hard core Turkey hunting Guides in the Northeast–Rest assured they want you to punch tags more than you even want to punch them. This is why you are booking with EVO! "Try Spring Turkey Hunt with us once and I promise you will not only leave as friends but as satisfied guests!" Sincerely, Capt Bryce Collins.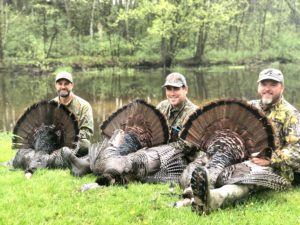 After the Hunt
Many people choose to relax and rest up for the following days adventure by seeing some of the areas scenic destinations like Ausable Chasm. If you enjoy tasting local Craft Beers and Wines. Check out Ausable Brewing Co, Valcour Brewing Company, The Oval Brewery and Plattsburgh Brewing Co located right in the same building as the Comfort Inn lodging. If Wine and Ciders are your thing– definitely check out Elf's Farm Winery & Ciderhouse and Vesco Ridge Vineyards for a great Tasting experience. Recommended formal dining options are Anthony's Restaurant & Bistro, Latitude 44 Bistro and for more casual Dining check out Mickey's Restaurant and Our House Bistro. For those diehards who want to squeeze every bit of action they can into the day! Guests can take full advantage of our Blast and cast Package, the Waterfowl and Deer hunt Package and our Fishing and Bowfishing Combo Packages! While you relax and enjoy everything the Lake Champlain Region has to offer. Our guides will be out in the afternoons until dusk scouting and roosting birds for the following days hunt. After harvesting your trophy New York Gobbler, your Guide will process your bird, vacuum seal the meat and freeze until your departure. If you decide to preserve your Trophy Wild Turkey–we have an exceptional Taxidermist who we can put you in touch with if you plan to have the work done locally.
If you're extending your vacation, don't miss out on the rest of the Adirondacks and Northern New York!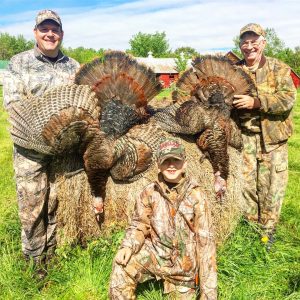 Lodging
Comfort Inn & Suites–Plattsburgh, NY
Our guests can take advantage of our Eastern View Outfitters reduced rates of $90/Night and stay at the Comfort Inn & Suites located at 411 Route 3 Plattsburgh, NY 12901. Comfort Inn & Suites rooms are equipped with 2 Queen size beds, high speed WIFI, Microwave and Fridge. Other amenities include an indoor swimming pool, fitness center , restaurant/bar, and free parking. It is also in close proximity to most of the shopping and dinning options in the area. Just call the Comfort Inn & Suites at 518-562-2730 and mention Eastern View Outfitters & Bryce Collins to make reservations at the Corporate Rates of $90/Night. We also have a couple contacts with homes for rent that sleep from 4-6 people starting at $200/night and we can provide their contact info upon requests. One of which is a beautiful cabin on a private lake very close to Plattsburgh, NY and the surrounding areas.
Other Lodging Options
We have a few options from homes and cabins for rent starting at about $200/night to local Inn's and Bed & Breakfast's that we can provide you the contact information upon request based on your needs. Some of these options can handle larger groups of up to 10 persons. Call Captain Bryce for more information.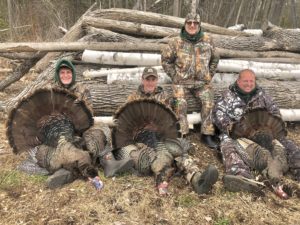 Our Pledge
We will do everything we can to make our guests safe, successful, and happy!
No farm raised birds! No feeders. All Turkey hunts are 100% Fair chase! This is the "real deal"
We will not limit you to the constraints of a blind for the whole day just waiting on a turkey…
Our hunts are action packed and we will hunt multiple setups on each day
We will not limit you to one bird and then charge you for a "second bird fee" or a "Trophy fee"… You paid for a hunt–if you have tags and time permitting… "The Hunt goes on!" Do the research… check references, compare photo galleries, look at our Eastern View Outfitters Facebook page for the most current activity and complete photo gallery…See You All in the This Spring! Sincerely, USCG Capt Bryce Collins
We encourage Novice hunters and Experts hunters alike–And hold both experience levels as repeat clientele
We only offer a Fully Guided hunt…. No Semi-Guided hunts are permitted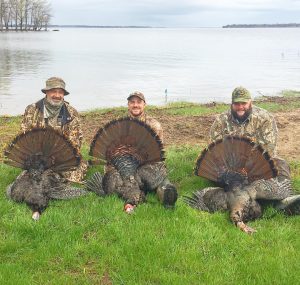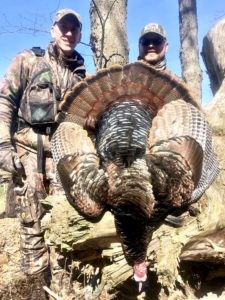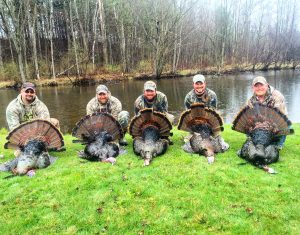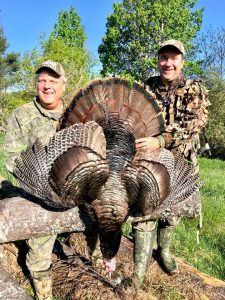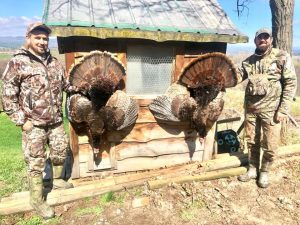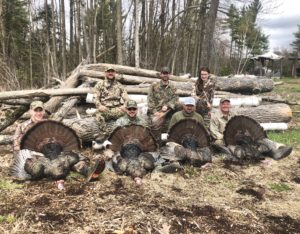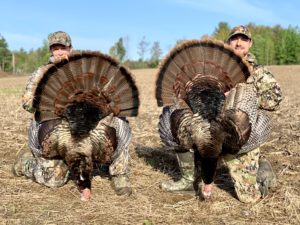 New York, Vermont, Massachusetts, Maine & New Hampshire Guided Turkey Hunt Packages
1 Hunter x 1 Guide Package $1250/per hunter–2 birds per hunter
2 Hunters x 1 Guide Package $2250 ($1125/per hunter)–

2 birds per hunter
All hunts are 3 Day Regular Season Hunts in NY, VT, NH, ME, MA offered May 1st -May 31st
Includes Fully Guided Hunt on Private Land–We do not offer any Semi-Guided Spring Turkey hunting
Lodging is an additional $90/night at the Comfort Inn in Plattsburgh NY
Game removal and disposal, Bird cleaning (skinless quartered), Vacuum Packaged meat, Taxidermy Preparation
Transportation to and from our lodging while hunting
Tips and techniques from our Master Guides on hunting strategy, decoy placement, calling strategy and game processing
1 Hunter x 1 Guide Package $1750–2 birds per hunter
2 Hunters x 1 Guide Package $2750–2 birds per hunter
4 Hunters x 2 Guide Package $5000–2 birds per hunter
*Saves you $$$$ booking as a Combo!
3 Day Regular Season Turkey Hunt and two 4 hour Afternoon Fishing Charters On Lake Champlain
Includes Fully Guided Hunt on Private Land–We do not offer any Semi-Guided Turkey hunting
Lodging is an additional $90/night located at the Comfort Inn in Plattsburgh, NY
2 Afternoon Fishing Charters on Lake Champlain with a USCG Captained vessel for Bass, Pike, Lake Trout and Atlantic Salmon (Your Pick)
Game removal and disposal, Bird/Fish cleaning, (skinless quartered & head on gutted) vacuum packaged meat, taxidermy preparation
Tips and techniques from our Guides on hunting and fishing strategy, decoy placement, lure choice, calling strategy and game processing
1 Youth Hunter and Parent X 1 Guide $550 per youth (2 day hunt)
Includes Full Weekend (Saturday & Sunday) Fully Guided Hunt on Private Land (1 bird per youth NY law)
Bird cleaning (skinless quartered) Vacuum packaged meat, Game removal and disposal
Taxidermy Preparation
Tips and techniques from our Guides on hunting strategy, decoy placement, calling strategy and game processing
Youth season is a great way to get kids into hunting and have them be successful… No compettion from adults hunters… And it precedes the regular turkey season–when hunting pressure has not yet come into play. We hold a 100% success rate on all youth hunts!!! You heard right! Lets keep it going!
Nothing makes a kid want to be in the outdoors more than an action packed successful first outing. Lets get them off the video games and hooked on the outdoors! You can't put prices on memories that last a lifetime! The "youth hunter" is allowed to take one bird during the special youth weekend season in NY state. I require a parent/guardian over 21 years of age to accompany the youth on our hunt. The parental guardian must sign a waiver release for the child and one for themselves prior to hunting. The parent guardian does not need a hunting license and is not permitted to carry a gun. The Youth Hunter needs a valid New York State hunting license and Turkey tags to participate. Please take a look at NYS DEC website for rules/regulations to help you answer any questions you might have.
We only offer a 2 youth hunts in NY & VT each season. We have 100% Success rates on 11 seasons of youth hunters!! Knock on wood…! This is because we do not over extend ourselves or mix groups. So book well in advance to get your youth hunt reserved. This is arguably the best weekend to hunt of the entire Spring Turkey hunting season!! We can provide lots of references… just call Capt Bryce Collins for information.
$100 per gun for 3 days
Rental Includes
12 gauge Top of the line Benelli Super Black Eagle 2 firearm that has been patterned and proven for harvesting turkeys
Aftermarket Turkey choke designed for maximum longe range performance specifically for Turkey Hunting
Turkey hunting ammunition specifically patterned for the gun and choke during the 3 day hunt
Your Licensed Guide will give proper instruction on the firearms so that you are comfortable using it
The firearm will be provided and retained after the hunt by your Guide each day
4 or 5 States of your choosing NY, VT, NH, MA, ME
1 hunter & 1 guide $1050/per state–

1

b

ird per hunter in each state
Fully Guided 4 0r 5 state hunt–12 or 15 day hunt–3 days in each state with 1 bird per hunter in each state
2 hunters & 1 guide $1000/per state–

1

bird per hunter in each state
Fully Guided 4 or 5 state hunt–12 or 15 days hunt–3 days in each state for 2 hunters with 1 bird per hunter in each state
Due to the overwhelming demand hunters from across the country that are choosing to book with us to get the job done on the Northeastern leg of their US Superslam. Their goal of killing birds in all 49 states is a major feat and all serious hunters realize the importance of getting it done the first time in a state! We have created a Super slam package. You choose 4 of 5 of the states we offer hunts in and we will get it done. I Bryce Collins also have the dream to kill Longbeards in all 49 states and respect this goal immensely and all who challenge it! I am at 23 states currently and understand the game as good as anyone. Call me on my cell at 518-569-5770 to talk Turkey!
1 Hunter 2 day Fall Turkey Package $

250 (1 bird either sex)
2 Hunter 2 day Fall Turkey Package

$500 (1 bird per hunter either sex)
1 hunter 2 day Fall Turkey & Archery Whitetail deer Package $500 (1 bird & 1 deer either sex per hunter)
2 hunter 2 day Fall Turkey & Archery Whitetail deer Package $1000 (1 bird & 1 deer either sex per hunter)
Semi-Guided hunts from fixed ground blinds & tree stands on Privately leased and managed farms
We will advise you on how to hunt these properties but ultimately the choice is yours
We only book 5 Fall Turkey hunts annually and have a very high success rate on these hunts so please call and reserve well in advance
We have a meat cutting outfit very close with a quick turn around time to make sure you don't have to ship your meat home this is an additional charge and you deal directly with the butcher
Lodging accommodations are an additional $90/night located at the Comfort Inn in Plattsburgh, NY