Welcome to Eastern View Outfitters "Success afield is our business." Eastern View Outfitters is a Fully Licensed and Insured Outdoor Guide Service specializing in Guided Duck & Goose Hunts in NY, Spring Turkey Hunts in New York & Vermont, Fishing Charters and Bow-fishing Trips in NY & VT on Lake Champlain and in Plattsburgh, NY
Here is a detailed list of the services we offer at EVO…….
About Eastern View Outfitters
Eastern View Outfitters is a Full-time, year-round hunting and fishing guide service owned and operated by USCG Captain & NYS Licensed Guide–Bryce Collins. EVO's homebase is centered in Plattsburgh, NY adjacent to the world class Lake Champlain region fishery. We have access to some of the most productive farmland and water the Northeast has to offer. The Lake Champlain Valley is a rich and fertile landscape that provides habitat for large populations of waterfowl species, deer, wild turkeys and fish! Lake Champlain is also rated as one of the best bass fisheries in the country by Touring Bass Pros! As an upstate New York native, Bryce Collins has nearly 20 years of experience hunting and fishing across New York, Vermont, Pennsylvania and numerous other states. With his wealth of knowledge about the region and thousands of acres of private farmland, Bryce and the licensed guides at Eastern View Outfitters bring you the best hunting and fishing trips available and provide these services at great rates!
About Captain Bryce Collins
Bryce is a New York State Guide and Licensed United States Coast Guard Captain. He is the Sole Proprietor of Eastern View Outfitters, and currently resides less than 15 miles from where he grew up with his Wife, Son and Black Lab named Hudson. Bryce graduated Cum Laude from SUNY Plattsburgh with a B.S. degree in Environmental Science. After college he pursued a career in his field, taking a Government position utilizing GIS mapping as part of a Community Plans Team in western NY. After several years he chose to make a life change, giving up a career in his field and to follow his true passion…. The Outdoors! Amongst his outdoor pursuits Bryce has traveled to and guided in numerous other states. In the spring of 2012, Bryce added a single season Grand Slam to his accolades. Traveling to Florida, Oklahoma, New Mexico and New York to harvest the four wild turkey subspecies, all in the same spring season. (Rio-Grande, Merriam's, Osceola, Eastern). He is currently working on his quest for the US Super Slam–Killing Longbeards in all 49 states! When he is not in the field you can find him volunteering his time for the National Wild Turkey Federation, mentoring Youth-Hunts, or training his dog and competing in AKC sanctioned Retriever Hunt Tests. "I have chosen to dedicate my life to sharing my knowledge and love of the outdoors with others…. What better way to carve out an existence in this world"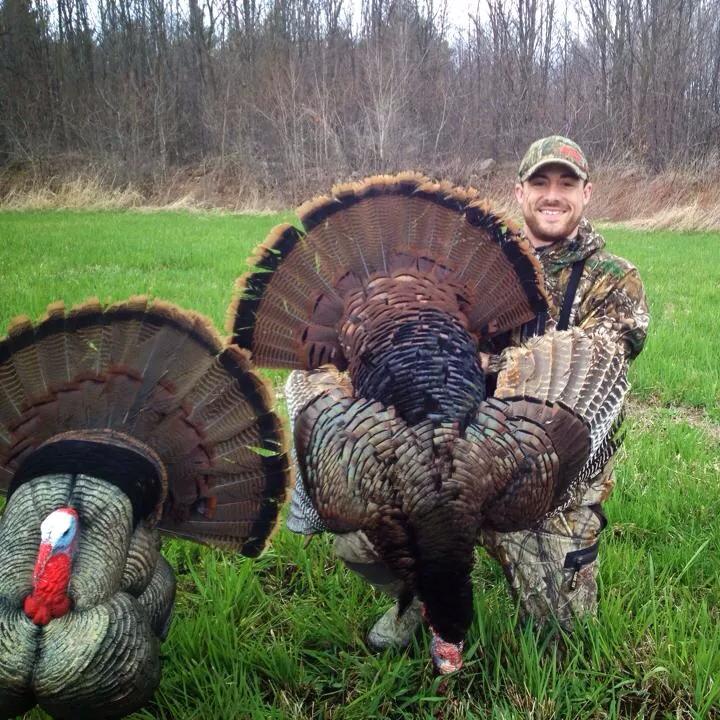 Our Gear
You won't find any junk when with Eastern View Outfitters. We pride ourselves on using field tested top of the line gear. Some of the brands you'll see on our Trips are: